There are several ways of evaluating how well a hearing aid compensates for hearing loss. Below are three of the most common options.
Audiometry
One approach is audiometry, which measures a subject's hearing levels in laboratory conditions. The advantage of testing in a lab is that threshold levels for various sounds and intensities can be measured under a variety of conditions. However, although audiometric tests may attempt to mimic real-world conditions, the patient's own every day experiences may differ.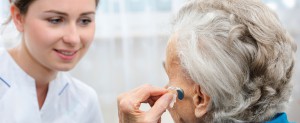 Self Reporting
An alternative approach is a self-report assessment, where the patient reports their experience with a hearing aid. Self reporting falls under two categories: open-ended and closed-ended. An open-ended self-report allows a patient to nominate and target their own areas of improvement with amplification. The assumed advantage of an open-ended scale is that it can be tailored to the communication needs of the patient. On the other hand, a closed-ended self-report allows the patient to complete a self-report scale using a pre-determined list of areas or concerns. For more information on self reporting, click here.
Real Ear Measurement
One of the most reliable methods for assessing the correct adjustment of a hearing aid is through real ear measurement. Real ear measurements (or probe microphone measurements) is the measurement of sound pressure levels in a patient's ear canal developed when a hearing aid is worn. It is measured with the use of a silicone probe tube inserted in the canal connected to a microphone outside the ear and is done to verify that the hearing aid is providing suitable amplification for a patient's hearing loss. Both the American SpeechLanguageHearing Association (ASHA) and American Academy of Audiology (AAA) recommend real ear measures as the preferred method of verifying the performance of hearing aids.
Whichever approach is used, hearing aid outcomes are represented by these three dimensions:
Hearing aid usage
Aided speech recognition
Benefit/satisfaction
If you or someone you know may be suffering from hearing loss or needs help evaluating their current hearing aid, feel free to schedule a no-obligation consultation with one of our audiology specialists today. We serve the greater Washington D.C. metro area and are conveniently located in Chevy Chase Maryland.