Hearing Aid Investment
Purchasing hearing aids can represent a significant financial investment for many people, but one that is recouped by the resulting improvement in the vital ability to understand and engage with the world around them. Even partially restored hearing can help alleviate the isolation, confusion and other negative consequences of hearing impairment.
Hearing aids have increased in price in recent years to support the research and development of the increasingly sophisticated digital devices that now dominate the market.
Although cheaper models are available from discount outlets, mail order or the internet, often-times these devices come without the benefit of the expertise of a trained and experienced certified audiologist.
Hearing aids are an investment in your ability to communicate with family, friends and business associates. Medicare and many insurance carriers do not cover hearing aids or their associated fees. We encourage you to inquire with your carrier regarding coverage.
Investing In Your Hearing
An evaluation in our practice frequently starts with an evaluation by our physician otolaryngologists to ensure there is no ear wax, and no underlying medical problem which may explain the hearing loss. An audiologist will provide a comprehensive hearing evaluation, and discuss your hearing needs. Options will be presented and we will guide you with the selection of an appropriate style of hearing aid. We will then ensure a proper fitting and make adjustments that will yield the optimal performance from these sophisticated devices. When you entrust your hearing care to Chevy Chase ENT & Audiology, you are investing in a long-term relationship with our audiologists, physicians and our support staff.
We are with you every step of the way; our team is available to address any unanticipated issues or concerns that may arise with your hearing aids — or with your overall ear, nose and throat health. Our audiologists have the supporting resources of our otolaryngologists, who are board-certified physicians skilled in treating ear disorders.
Do I need one hearing aid or two?
People who have hearing loss in both ears are best served by wearing hearing aids in both ears (binaurally). In a similar fashion, if you have visual loss in both eyes, you would most benefit from eyeglasses for both eyes, not just one eye. The benefits of binaural hearing include improved understanding of speech, localization of the source of a sound or voice and less physical strain when listening. They help to maintain auditory stimulation and preserve potential auditory capability.
How long should a hearing aid last?
A hearing aid's life expectancy is typically 3-5 years, but can last longer. Technological advances in hearing amplification are occurring continuously to better meet the needs of those with hearing loss.
Schedule an Appointment Today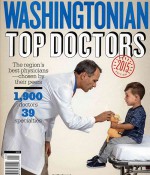 Selected in Washingtonian Top Doctors Since 1998
Dr. Winkler is an extremely talented and dedicated physician who listens carefully and considers the whole health history as he develops a treatment plan…He's appropriately cautious and will demur on a procedure if there's a safer alternative. However, if a procedure is warranted, he has the talent to do it well.
Everything about this office is excellent; Dr. Winkler is superb. Most thorough history and exam; patient and thorough explanations of everything; …produced great improvement in a problem that had festered for months…Could not be better!!
My child's pediatrician recommended Dr. Winkler as her first choice to perform a tonsillectomy…Dr. Winkler was matter-of-fact, friendly, unhurried, professional, and has a wicked sense of humor…His follow-up care was thorough, kind, accurate, and timely. He's a top notch doctor!
Our niece had a tough recovery from surgery due to her already being sick ….  Dr. Winkler was amazing.  Called us every single day for two weeks.  Saw us as necessary.  I will use him again in a heartbeat.
My husband has been fighting a rare and deadly cancer that was found in his nose by Dr. Hao for over six years now. We both truly believe that if not for the professionalism and concern that has shown us over those years, that my husband would not be alive today. We cannot praise Dr. Hao enough.
I met with Dr. Capobianco a few months ago and she was fantastic…It has been a game changer in terms of life style…Dr. Capobianco was extremely professional, helpful and a joy to work with. I would recommend her and the staff at the office without hesitation. They are always helpful and friendly.