Do you or someone you love have Tinnitus? Here are the signs
Tinnitus is defined as the subjective perception of noise or sound not audible to others. It is frequently referred to as subjective tinnitus because the noise is not heard by others. It is often perceived to originate from the ears or somewhere in the head. Tinnitus is pronounced: TINN-ih-tus . Tinnitus is subjectively described in various ways including sounding like a bell tone, ringing, buzzing, swooshing, white noise, a static sound, a water fall sound, crickets and cicadas, to name a few. One's awareness of tinnitus can be quite variable. There is a wide spectrum of tinnitus presence and awareness, ranging from very occasional and non-bothersome on one end of the spectrum, to constant and debilitating on the other end of the spectrum.
According to the U.S. Centers for Disease Control over 45 million Americans experience some degree of tinnitus. Tinnitus is a symptom which can be associated with a number of medical conditions, but is most frequently associated with some degree of hearing loss. Medical conditions which can be associated with tinnitus include: ear wax build-up, middle ear fluid and infections, head and neck trauma, temporomandibular joint dysfunction and teeth clenching, barometric trauma, inner ear tumors, and some medications. Tinnitus is more common in men, older individuals, those with hearing loss, Caucasians, individuals exposed to loud noises, (guns, machinery, factory noise) military personnel, music and extreme sport enthusiasts and those with behavioral issues.
Tinnitus can adversely affect one's well-being and proper management can reduce these negative influences. Patients can report an interference with social, emotional and physical relationships. This can be associated with frustration, anxiety, mood swings, an inability to concentrate or think clearly, insomnia, and depression. The difference between simply perceiving tinnitus and being adversely affected by tinnitus depends on the activation of the limbic and autonomic nervous systems. To determine the impact tinnitus has on your life, download and complete the Tinnitus Handicap Inventory.
Please refer the American Tinnitus Association website for more information on tinnitus.
PBS hosted an excellent review of tinnitus by Miles O'Brien which can be viewed here.
http://www.pbs.org/newshour/rundown/tinnitus-discovery-may-lead-to-new-treatment
Schedule an Appointment Today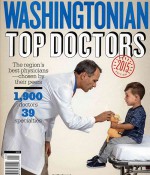 Selected in Washingtonian Top Doctors Since 1998
Dr. Winkler is an extremely talented and dedicated physician who listens carefully and considers the whole health history as he develops a treatment plan…He's appropriately cautious and will demur on a procedure if there's a safer alternative. However, if a procedure is warranted, he has the talent to do it well.
Everything about this office is excellent; Dr. Winkler is superb. Most thorough history and exam; patient and thorough explanations of everything; …produced great improvement in a problem that had festered for months…Could not be better!!
My child's pediatrician recommended Dr. Winkler as her first choice to perform a tonsillectomy…Dr. Winkler was matter-of-fact, friendly, unhurried, professional, and has a wicked sense of humor…His follow-up care was thorough, kind, accurate, and timely. He's a top notch doctor!
Our niece had a tough recovery from surgery due to her already being sick ….  Dr. Winkler was amazing.  Called us every single day for two weeks.  Saw us as necessary.  I will use him again in a heartbeat.
My husband has been fighting a rare and deadly cancer that was found in his nose by Dr. Hao for over six years now. We both truly believe that if not for the professionalism and concern that has shown us over those years, that my husband would not be alive today. We cannot praise Dr. Hao enough.
I met with Dr. Capobianco a few months ago and she was fantastic…It has been a game changer in terms of life style…Dr. Capobianco was extremely professional, helpful and a joy to work with. I would recommend her and the staff at the office without hesitation. They are always helpful and friendly.