What is sinusitis?
Many people suffer from sinusitis. It is not unusual to have an occasional sinus infection. However, we see patients who have frequently recurring and chronic sinusitis. Many patients with a sinus infection have purulent, discolored thick and tenacious mucous coming out of their noses. The amount of infected mucous which comes out of the nose is quite amazing, and there seems to be no end to the amount of drainage. Other commons sinusitis symptoms include, nasal congestion and difficulty breathing through the nose. Facial fullness and headaches can occur as well. Your sense of smell is commonly decreased, and there is frequently a sense of not feeling well, sometimes feeling dizzy, fatigued and having difficulty concentrating.
Where are the sinuses?
The sinuses are made up of four interconnected hollow areas or air spaces of the skull — frontal, ethmoid, sphenoid and maxillary — which all open into the nasal cavity. The mucosal lining of the sinuses, generate mucus to keep the nose from drying out and to trap foreign substances. Each sinus has an opening that allows mucus to drain, and anything that obstructs that flow may cause a buildup of mucus and lead to a sinus infection.
Why are we prone to getting sinusitis?
People frequently get sinusitis because the sinuses do not ventilate very well. The sinuses are air-filled spaces in the front of the face. These spaces need to ventilate into the nose. If the ability of the sinuses to ventilate is impaired, one is prone to getting a sinus infection. Adequate sinus ventilation is necessary for healthy sinuses. A similar situation is with children who get frequent ear infections. The space behind the ear drum, called the middle ear space, ventilates to the back of the nose through the eustachian tube. In some children, the eustachian tube does not allow for adequate ventilation of the middle ear space. These children are prone to getting fluid and infections of the middle ear. If the child gets frequent infections, ventilation tubes might be recommended. These are small tubes placed in the ear drum so that the middle ear ventilates through the PE tube to the outside. As soon as middle ear ventilation is restored, the middle ear fluid and infections resolve.
Poorly ventilating bathrooms are prone to chronic moisture problems and mildew build-up. As soon as the bathroom ventilation is improved with an open window, an exhaust fan and a cross draft, the mildew and moisture problems clear up.
How do we treat sinus infections?
All sinus treatments have the goal of improving sinus ventilation. This in turn will result in adequate sinus drainage of the infection and resolution.
There are essentially three tiers of treatment for sinusitis
More about balloon sinuplasty:
Balloon sinuplasty is a minimally invasive procedure conducted by a qualified ENT physician on patients with recurrent acute sinusitis or chronic sinusitis whose symptoms have not responded to sinus medications and therapies. This therapy is similar to angioplasty, used by cardiologists to improve blood flow in the heart coronary artery. When the coronary artery becomes blocked, blood flow is decreased and this can predispose to heart attacks and angina. (chest pain). In selected cases, a cardiologist will open the clogged artery with angioplasty. He inserts a special medical grade balloon into the blocked artery, then inflates the balloon. This results in increasing the diameter of the balloon so that blood flow to the heart can be restored.
In a similar fashion, the blocked sinus drainage pathways can be corrected and opened up with balloon sinuplasty. We place a tiny balloon catheter into the nose and into the area of the blocked sinuses. The balloon is then inflated in order to open the sinus passageway. As an option, with the balloon catheter (tube) in the sinus, pus may be flushed. The balloon is then deflated and removed. The sinus ventilation port is permanently opened resulting in significantly improved sinus health with the intention of resolving the chronic sinus condition.
Balloon Sinuplasty offers an alternative to conventional sinus surgery. Both techniques are intended to improve sinus ventilation, however the balloon sinuplasty procedure is less involving.
Schedule an Appointment Today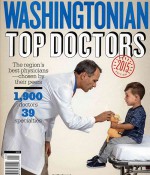 Selected in Washingtonian Top Doctors Since 1998
Dr. Winkler is an extremely talented and dedicated physician who listens carefully and considers the whole health history as he develops a treatment plan…He's appropriately cautious and will demur on a procedure if there's a safer alternative. However, if a procedure is warranted, he has the talent to do it well.
Everything about this office is excellent; Dr. Winkler is superb. Most thorough history and exam; patient and thorough explanations of everything; …produced great improvement in a problem that had festered for months…Could not be better!!
My child's pediatrician recommended Dr. Winkler as her first choice to perform a tonsillectomy…Dr. Winkler was matter-of-fact, friendly, unhurried, professional, and has a wicked sense of humor…His follow-up care was thorough, kind, accurate, and timely. He's a top notch doctor!
Our niece had a tough recovery from surgery due to her already being sick ….  Dr. Winkler was amazing.  Called us every single day for two weeks.  Saw us as necessary.  I will use him again in a heartbeat.
My husband has been fighting a rare and deadly cancer that was found in his nose by Dr. Hao for over six years now. We both truly believe that if not for the professionalism and concern that has shown us over those years, that my husband would not be alive today. We cannot praise Dr. Hao enough.
I met with Dr. Capobianco a few months ago and she was fantastic…It has been a game changer in terms of life style…Dr. Capobianco was extremely professional, helpful and a joy to work with. I would recommend her and the staff at the office without hesitation. They are always helpful and friendly.