Treatment for Voice, Throat and Swallowing Disorders in the DC Metro Area
ENT Doctors providing outstanding care for swallowing, voice & breathing issues
The upper aerodigestive tract is a passageway that coordinates three separate, complex functions: breathing, speaking and swallowing.  Only one of these functions can occur at a time, while the remaining two are temporarily inactive.  For example, when we are actively talking, we are not breathing or swallowing.  And similarly, during the time that we are actively swallowing, we are not breathing or talking.  We alternate these complicated functions of talking, breathing, and swallowing seamlessly and automatically.
We evaluate many patients who have problems of the upper aerodigestive tract, problems which affect your speech, breathing, and swallowing mechanism.
Sorting out your symptoms requires hearing the story of your symptoms, a review of your other medical problems, medications, and diet; and an examination which will require a fiberoptic laryngoscopy.  This is an examination performed in the office awake, with local anesthetic spray.  Patients tolerate this procedure very well with minimal discomfort and essentially no risks.
Treatments depend on your evaluation and examination.
Schedule an Appointment Today
Frequent problems we evaluate include: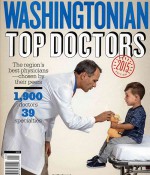 Selected in Washingtonian Top Doctors Since 1998
Dr. Winkler is an extremely talented and dedicated physician who listens carefully and considers the whole health history as he develops a treatment plan…He's appropriately cautious and will demur on a procedure if there's a safer alternative. However, if a procedure is warranted, he has the talent to do it well.
Everything about this office is excellent; Dr. Winkler is superb. Most thorough history and exam; patient and thorough explanations of everything; …produced great improvement in a problem that had festered for months…Could not be better!!
My child's pediatrician recommended Dr. Winkler as her first choice to perform a tonsillectomy…Dr. Winkler was matter-of-fact, friendly, unhurried, professional, and has a wicked sense of humor…His follow-up care was thorough, kind, accurate, and timely. He's a top notch doctor!
Our niece had a tough recovery from surgery due to her already being sick ….  Dr. Winkler was amazing.  Called us every single day for two weeks.  Saw us as necessary.  I will use him again in a heartbeat.
My husband has been fighting a rare and deadly cancer that was found in his nose by Dr. Hao for over six years now. We both truly believe that if not for the professionalism and concern that has shown us over those years, that my husband would not be alive today. We cannot praise Dr. Hao enough.
I met with Dr. Capobianco a few months ago and she was fantastic…It has been a game changer in terms of life style…Dr. Capobianco was extremely professional, helpful and a joy to work with. I would recommend her and the staff at the office without hesitation. They are always helpful and friendly.