What is GERD?
GERD is short for gastroesophageal reflux disease and is a digestive disorder that affects the lower esophageal sphincter (LES).
Gastroesophageal – it refers to the stomach and esophagus
Reflux – it means to flow back or return
Thus, GERD reflux is simply the return of the contents of the stomach upwards into the esophagus.
Normal digestion involves the passing of food through the LES when it opens. However, the LES closes during normal digestion in order to stop food as well as acidic stomach juices from flowing back into the esophagus. When the LES is weak or relaxes and opens at inappropriate times, the stomach's contents flow back up into the esophagus.
GERD is thought to arise because of a condition known as hiatal hernia. Hiatal hernia occurs as part of the stomach pushes upward through a small opening in the diaphragm that is meant for the passing of food on its way to the stomach. The LES is a ring of muscle located between the esophagus and stomach. GERD causes people to suffer from either heartburn or acid indigestion.
A hiatal hernia is thought to weaken the LES, therefore increasing the risk for gastroesophageal reflux. Increased pressure in the abdomen due to coughing, vomiting, straining, or sudden physical exertion can lead to hiatal hernia. Other conditions that can potentially lead to hiatal hernia are obesity and pregnancy. Hiatal hernias are known to affect people in their later years, but they can occur in people of all ages
Hiatal hernias are typically fine when left untreated, but treatment becomes necessary if the hernia is in danger of becoming twisted in a way that cuts of blood supply or is furthered by severe GERD or inflammation of the esophagitis. Treatment of hiatal hernias requires a surgical procedure to reduce the size of the hernia or to prevent strangulation.
As for GERD, only a small number of people with the condition need surgery due to severe reflux and poor bodily response to medical treatment. Surgery for GERD should not be considered until all other treatment options have been unsuccessful. GERD can normally be treated with lifestyle and dietary changes given by a doctor that decrease the amount of reflux or reducing damage to the lining of the esophagus from refluxed materials.
http://www.webmd.com/heartburn-gerd/guide/reflux-disease-gerd-1
http://www.mayoclinic.org/diseases-conditions/hiatal-hernia/basics/definition/con-20030640
Schedule an Appointment Today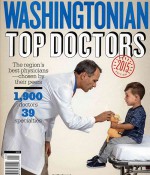 Selected in Washingtonian Top Doctors Since 1998
Dr. Winkler is an extremely talented and dedicated physician who listens carefully and considers the whole health history as he develops a treatment plan…He's appropriately cautious and will demur on a procedure if there's a safer alternative. However, if a procedure is warranted, he has the talent to do it well.
Everything about this office is excellent; Dr. Winkler is superb. Most thorough history and exam; patient and thorough explanations of everything; …produced great improvement in a problem that had festered for months…Could not be better!!
My child's pediatrician recommended Dr. Winkler as her first choice to perform a tonsillectomy…Dr. Winkler was matter-of-fact, friendly, unhurried, professional, and has a wicked sense of humor…His follow-up care was thorough, kind, accurate, and timely. He's a top notch doctor!
Our niece had a tough recovery from surgery due to her already being sick ….  Dr. Winkler was amazing.  Called us every single day for two weeks.  Saw us as necessary.  I will use him again in a heartbeat.
My husband has been fighting a rare and deadly cancer that was found in his nose by Dr. Hao for over six years now. We both truly believe that if not for the professionalism and concern that has shown us over those years, that my husband would not be alive today. We cannot praise Dr. Hao enough.
I met with Dr. Capobianco a few months ago and she was fantastic…It has been a game changer in terms of life style…Dr. Capobianco was extremely professional, helpful and a joy to work with. I would recommend her and the staff at the office without hesitation. They are always helpful and friendly.