Nosebleeds
Nosebleeds, while sometimes aggressive and very messy, are usually extremely easy to handle. They are very common, especially in children between 2 and 10 year old and adults between 50 and 80 years old.
Nosebleeds seem fairly straightforward: blood is exiting the body from your nose. However, there are two types of nosebleeds. The first are anterior nosebleeds. Making up over 90 percent of all nosebleeds, anterior nosebleeds come form a blood vessel at the front of the nose and are easily taken care of. Posterior nosebleeds are far less common than anterior nosebleeds and occur mostly in elderly people. Contrary to the bleeding of anterior nosebleeds, posterior nosebleeds come from an artery in the back of the nose and require admission to the hospital and care from an ear, nose, and throat specialist.
Trauma to the nose, such as a blow to the face or trauma inside of the nose, is the primary cause of a nosebleed. On rare occasions, nosebleeds may occur due to an underlying disease process, such as the inability of blood to clot. Additionally, high blood pressure may contribute to nose bleeds but are never the sole reason for their occurrences.
Nosebleeds generally only involve bleeding out of one nostril. If the blood flow is heavy enough, the blood may spill into the other nostril and cause blood to drip from both nostrils. In rare cases, people may spit or possibly vomit blood when drips back into the throat or stomach.
Home treatment of a nosebleed is extremely straightforward. You must remain calm, sit up straight, and tilt your head backwards. Pinch your nostrils together with your thumb and index finger for ten minutes and spit out any blood that may flow to your mouth.
Although nosebleeds are easily treated from home, they may need to be discussed with a doctor if:
You have repeated episodes of nosebleeds
You have additional bleeding from places other than the nose
You bruise easily
You are on blood-thinning drugs, including aspirin
You have any underlying disease that may affect blood clotting
You recently went through chemotherapy
Nosebleeds require a visit to the hospital if:
You continue to bleed after pinching the nose for 10 minutes
You have repeated episodes of nosebleeds over a short period of time
You feel like you may pass out from being dizzy
You have a rapid heartbeat or trouble breathing
You are coughing or vomiting blood
You have a rash or a body temperature over 101.4 degrees Fahrenheit
Your doctor stresses that you visit the emergency room
http://www.webmd.com/first-aid/nosebleeds-causes-and-treatments
Schedule an Appointment Today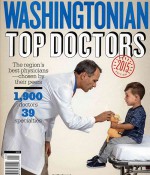 Selected in Washingtonian Top Doctors Since 1998
Dr. Winkler is an extremely talented and dedicated physician who listens carefully and considers the whole health history as he develops a treatment plan…He's appropriately cautious and will demur on a procedure if there's a safer alternative. However, if a procedure is warranted, he has the talent to do it well.
Everything about this office is excellent; Dr. Winkler is superb. Most thorough history and exam; patient and thorough explanations of everything; …produced great improvement in a problem that had festered for months…Could not be better!!
My child's pediatrician recommended Dr. Winkler as her first choice to perform a tonsillectomy…Dr. Winkler was matter-of-fact, friendly, unhurried, professional, and has a wicked sense of humor…His follow-up care was thorough, kind, accurate, and timely. He's a top notch doctor!
Our niece had a tough recovery from surgery due to her already being sick ….  Dr. Winkler was amazing.  Called us every single day for two weeks.  Saw us as necessary.  I will use him again in a heartbeat.
My husband has been fighting a rare and deadly cancer that was found in his nose by Dr. Hao for over six years now. We both truly believe that if not for the professionalism and concern that has shown us over those years, that my husband would not be alive today. We cannot praise Dr. Hao enough.
I met with Dr. Capobianco a few months ago and she was fantastic…It has been a game changer in terms of life style…Dr. Capobianco was extremely professional, helpful and a joy to work with. I would recommend her and the staff at the office without hesitation. They are always helpful and friendly.