Why do we have ear wax, and how do we know when to clean it?
Cerumen, commonly known as ear wax, ranges between 20 to 50 percent fat and coats the ear canal. Ear wax helps to moisturize, clean, and fight off infection from the ear canal. Produced by the wax glands around the outer part of the ear canal, ear wax is sticky and shiny. Not producing enough ear wax can result in infection, although most people produce enough to avoid any infection.
Ear wax exists as the body's natural defense against particles that approach the inner ear as well as a natural cleanser and lubricator for the ears. After ear wax has served its purpose, it exits the ear canal and continues to dry out and fall out of the ear. On occasion, ear wax builds up to unhealthy amounts, and some people are more prone to producing excessive ear wax than others.
Signs of excessive ear wax accumulation include:
Ear pain
A feeling of fullness in the ear
Loss of hearing
Ringing in the ears (Tinnitis)
Ear infection
Itching
Ear odor
Discharge from the ear
When ear wax does build up to this extent, you will want to consider various methods of removing the ear wax. People often use at-home methods to clean their ears such as cotton swabs, hair pins, or other similar objects. However, if used incorrectly, these methods can push the wax deeper into the ear canal and as a result, cause irritation or even cause the eardrum to rupture.
Ear wax can be safely removed at home by using a cloth to wipe and wash the fleshy external part of the ear. It is important to avoid putting anything in your ear canal.
If excessive amounts of ear wax continue to exist and affect the ability to hear, it is important to see a doctor. A doctor can effectively and safely clean excessive wax out of the ear canal.
http://www.everydayhealth.com/ear-nose-throat/ear-wax.aspx
Schedule an Appointment Today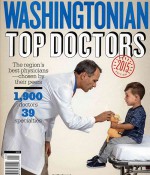 Selected in Washingtonian Top Doctors Since 1998
Dr. Winkler is an extremely talented and dedicated physician who listens carefully and considers the whole health history as he develops a treatment plan…He's appropriately cautious and will demur on a procedure if there's a safer alternative. However, if a procedure is warranted, he has the talent to do it well.
Everything about this office is excellent; Dr. Winkler is superb. Most thorough history and exam; patient and thorough explanations of everything; …produced great improvement in a problem that had festered for months…Could not be better!!
My child's pediatrician recommended Dr. Winkler as her first choice to perform a tonsillectomy…Dr. Winkler was matter-of-fact, friendly, unhurried, professional, and has a wicked sense of humor…His follow-up care was thorough, kind, accurate, and timely. He's a top notch doctor!
Our niece had a tough recovery from surgery due to her already being sick ….  Dr. Winkler was amazing.  Called us every single day for two weeks.  Saw us as necessary.  I will use him again in a heartbeat.
My husband has been fighting a rare and deadly cancer that was found in his nose by Dr. Hao for over six years now. We both truly believe that if not for the professionalism and concern that has shown us over those years, that my husband would not be alive today. We cannot praise Dr. Hao enough.
I met with Dr. Capobianco a few months ago and she was fantastic…It has been a game changer in terms of life style…Dr. Capobianco was extremely professional, helpful and a joy to work with. I would recommend her and the staff at the office without hesitation. They are always helpful and friendly.