Sleep Apnea & Snoring
Sleep disordered breathing is an umbrella diagnosis which includes individuals with snoring and sleep apnea.  Almost all individuals who have sleep apnea, also have very loud snoring.  Conversely, if one snores, it does not necessarily mean that there is apnea also.  One can have a suspicion that apnea may be an issue.  Spouses and family members frequently are the first to suspect a sleep disorder.  However, patients are almost never aware of their snoring or apnea.  The only way to definitively diagnose sleep apnea is with a sleep study.
Sleep Apnea Snoring Treatments
Some snoring treatments include:
Weight loss
Positional sleep therapy
Mandibular advancement device: an oral appliance which prevents the jaw from falling backwards during sleep.
Injection snoreplasty: a technique to stiffen the soft palate by injecting a sclerosing solution into the soft palate.
Palate pillar procedure: a technique to stiffen the soft palate with a synthetic wick placed into the soft palate under local anesthesia.
Addressing other anatomical areas which might contribute to snoring including nasal obstruction (deviated septum, turbinate enlargement or nasal polyps) and tongue base obstruction. For tongue base obstructive anatomy, we would consider a mandibular advancement device or the radiofrequency ablation procedure.
There are a number of treatment options to address snoring. Deciding on the best option involves an evaluation by one of our physicians, making sure one does not have apnea, and an evaluation of the nose and throat (upper aerodigestive tract) to determine the likely site of snoring.
If a sleep study confirms apnea, a discussion with our physician is recommended to determine the best course of treatment. Treatment options may include the following:
Weight loss
Addressing lifestyle changes: diet, exercise, sleep hygiene habits
CPAP: Continuous Positive Airway Pressure mask
Mandibular Advancement Device: a mouthpiece which prevents the jaw from falling backwards.
Radiofrequency Ablation (RFA): an effective non-surgical option for patients whose tongue falls back and obstructs the airway. In RFA, the volume of the base of the tongue is reduced by applying small amounts of radiofrequency energy, thereby preventing the possibility of blockage.
Tonsillectomy: if there are enlarged tonsils contributing to airway obstruction, tonsillectomy may be indicated
Uvulopalatopharyngoplasty (UPPP): This is a surgical procedure in which removing redundant and excessive tissue in the back of the throat and soft palate may be recommended; this is frequently done with a tonsillectomy.
Maxillary-Mandibular Advancement: a surgical procedure to advance the mandible (jaw bone) and maxilla to open the posterior airway. (back of the throat)
Trans Oral Robotic Surgery (TORS): a surgical procedure to remove excessive and redundant tongue tissue, performed under anesthesia in selected individuals.
Nasal obstruction correction: if indicated, address obstructive nasal anatomy. See details under "Nose and sinus"

(link to that part of website)
Schedule an Appointment Today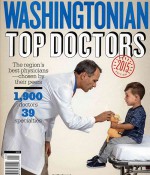 Selected in Washingtonian Top Doctors Since 1998
Dr. Winkler is an extremely talented and dedicated physician who listens carefully and considers the whole health history as he develops a treatment plan…He's appropriately cautious and will demur on a procedure if there's a safer alternative. However, if a procedure is warranted, he has the talent to do it well.
Everything about this office is excellent; Dr. Winkler is superb. Most thorough history and exam; patient and thorough explanations of everything; …produced great improvement in a problem that had festered for months…Could not be better!!
My child's pediatrician recommended Dr. Winkler as her first choice to perform a tonsillectomy…Dr. Winkler was matter-of-fact, friendly, unhurried, professional, and has a wicked sense of humor…His follow-up care was thorough, kind, accurate, and timely. He's a top notch doctor!
Our niece had a tough recovery from surgery due to her already being sick ….  Dr. Winkler was amazing.  Called us every single day for two weeks.  Saw us as necessary.  I will use him again in a heartbeat.
My husband has been fighting a rare and deadly cancer that was found in his nose by Dr. Hao for over six years now. We both truly believe that if not for the professionalism and concern that has shown us over those years, that my husband would not be alive today. We cannot praise Dr. Hao enough.
I met with Dr. Capobianco a few months ago and she was fantastic…It has been a game changer in terms of life style…Dr. Capobianco was extremely professional, helpful and a joy to work with. I would recommend her and the staff at the office without hesitation. They are always helpful and friendly.